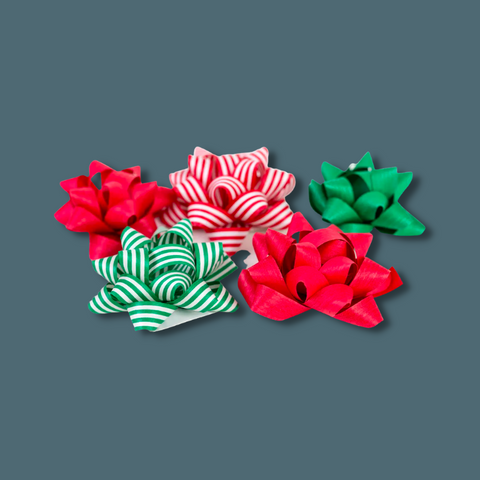 Eco Gift Bows Christmas Mix
Adhesive gift bows that are cute, convenient and compostable, they are a perfect eco-friendly alternative to conventional ones made of plastic.  These stick-on bows are made of natural cotton ribbon that is compostable and biodegradable, the set of five come in a mix of colors in a clever Kraft paper package.
- Made in the USA
- This box includes five small-to-medium sized bows (2-3/8" and 3") in a Christmas-sy mix. (1) 3" Red, (1) 3" Red and White Stripe, (1) 2-3/8" Green, (1) 2-3/8" Green and White Stripe, (1) 2-3/8" Red
- Wrappily's artisanal ribbon factory is committed to the highest levels of sustainability, using water-based dyes and natural fiber cotton yarn that is 100% grown and dyed in the United States
- JOIN the mission to green-up gifting!